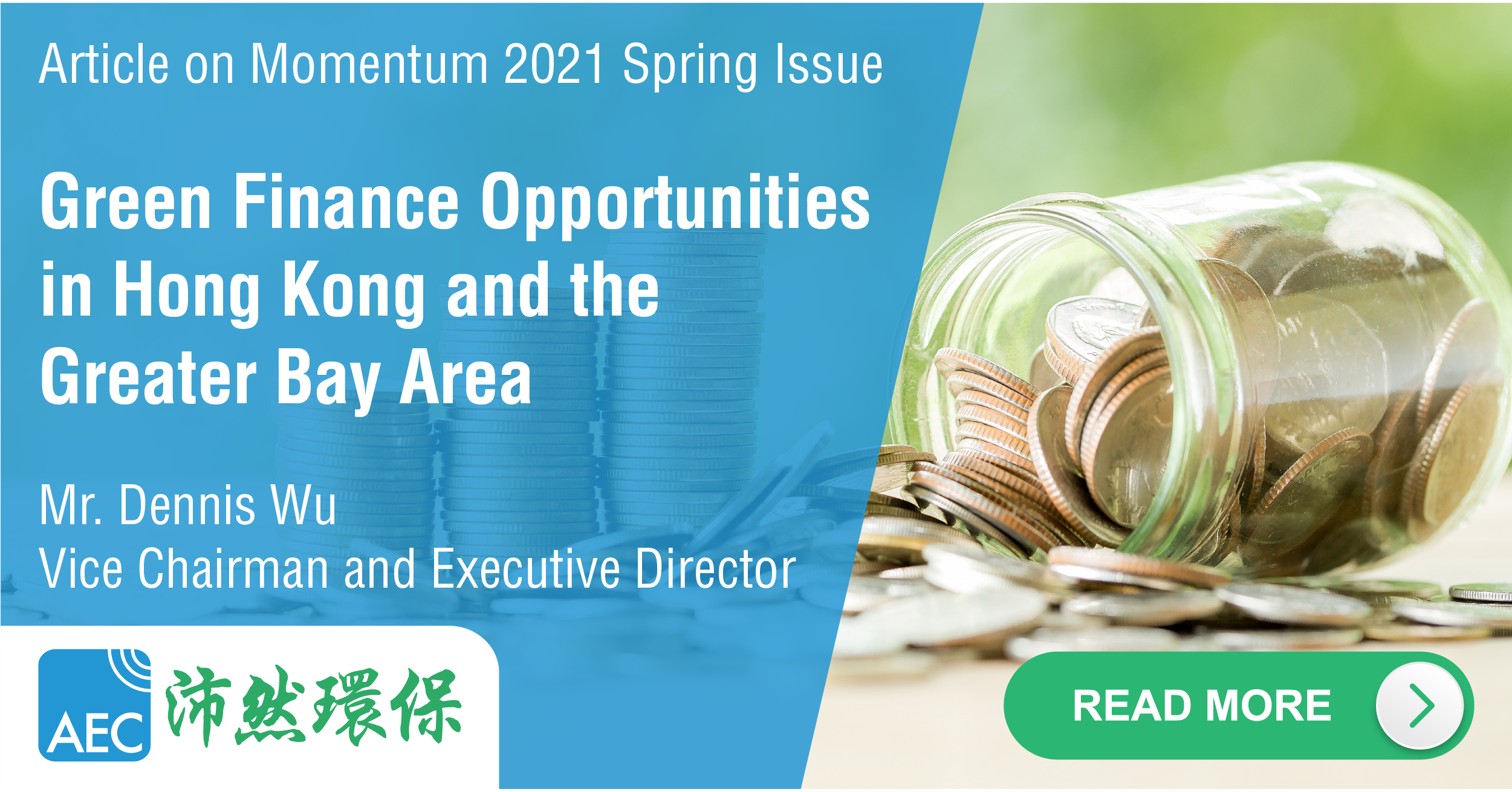 Share

Print

Mr. Dennis Wu's Sharing on Momentum - Green Finance Opportunities in Hong Kong and the Greater Bay Area
Category
Publications
Date
02 Jun 2021
Tag

News & Events
Share

Print

Introduction to Green Finance
Hong Kong is braced for a green finance rush in 2021, as policy makers and investors seek a sound legal and regulatory system, deep and liquid capital markets, a robust financial infrastructure and a wealth of financial intermediaries and talent to support the growing green investment opportunities.
According to Climate Bonds Initiative, the green finance market has seen a remarkable response to the green instruments, reaching its most substantial milestone with USD$1.002 trillion in cumulative issuance since market inception in 2007 as of early December 2020.
Globally, investors, fund managers and regulators awareness are growing to support sustainability initiatives to disclose their financial sustainability performance. Climate Action 100+, comprised of more than 500 investors with more than USD$47 trillion in assets under management, is engaging the world's largest corporate greenhouse gas emitters to strengthen their climate-related disclosures by implementing the Task Force on Climate-related Financial Disclosures (TCFD) recommendations.
What Are the Green Finance Opportunities in Hong Kong and The Greater Bay Area?
Hong Kong has to play a leading and proactive role to develop into a hub for green finance. In the year 2019, a total of USD$10 billion of green bonds are arranged and issued in Hong Kong, which was over three-fold of that in 2017. The Hong Kong Stock Exchange launched the Sustainable & Green Exchange (STAGE), a central hub for data and information on sustainable and green-finance investments. It is the first-of-its kind in Asia.
In addition to enhancing climate-related financial disclosures to the ESG policies establishment, in May 2020, the Securities and Futures Commission (SFC) and the Hong Kong Monetary Authority (HKMA) initiated the establishment of the Green and Sustainable Finance Cross-Agency Steering Group to accelerate the growth of green and sustainable finance in Hong Kong and support the Government's climate strategies and coordinate these issues in the financial sector across different agencies in Hong Kong.
The Green and Sustainable Finance Cross-Agency Steering Group (Steering Group) announced in December 2020 its green and sustainable finance strategy for Hong Kong and five key action points.
(1) Climate-related disclosures aligned with the TCFD recommendations will be mandatory across relevant sectors no later than 2025
(2) Aim to adopt the Common Ground Taxonomy
(3) Support the International Financial Reporting Standards Foundation's proposal to establish a new Sustainability Standards Board for developing and maintaining a global, uniform set of sustainability reporting standards
(4) Promote climate-focused scenario analysis
(5) Establish a platform to act as a focal point for financial regulators, Government agencies, industry stakeholders and the academia
How to Choose Green Finance Tools?
Green finance covers a wide range of financial products and services, which can be broadly divided into banking, investment and insurance products. Examples of these include green bonds, green-tagged loans, green investment funds and climate risk insurance.
With different international standards and regulations rising, green finance tools are growing maturely and rapidly. People's Bank of China indicates that green finance policies and institutional arrangements would attract private capital investments into green industries such as environmental protection, energy conservation and clean energy through financial services – including lending, private equity funds, bonds, shares and insurance.
With an established platform for green financial products in the market, it is more accessible for corporations to engage with investors and other stakeholders upon their needs and avoid green washing. Given the yet-to-be sophisticated and ever-changing regulations and policies in different regions, corporations need to determine their roles in the green finance market and keep up-to-date on the compliance requirements.
What Is Next?
The future of finance is sustainable and profitable. Sustainability will be the forefront of financial decisions, endorsed by various stakeholders, institutions, authorities and government bodies. With the rapid growth and refinement of green finance frameworks and systems, along with the pledges to achieve carbon neutrality by 2050, Hong Kong is predicted to be raising in the amount of green financing to achieve the goal along with international investors. With the huge green financing demand of the Mainland China and the Belt and Road Initiative, as well as the connectivity mechanism, it provides new opportunities for Hong Kong to develop green finance and become an international green financial center.
(The original article was published on Momentum 2021 Spring Issue.)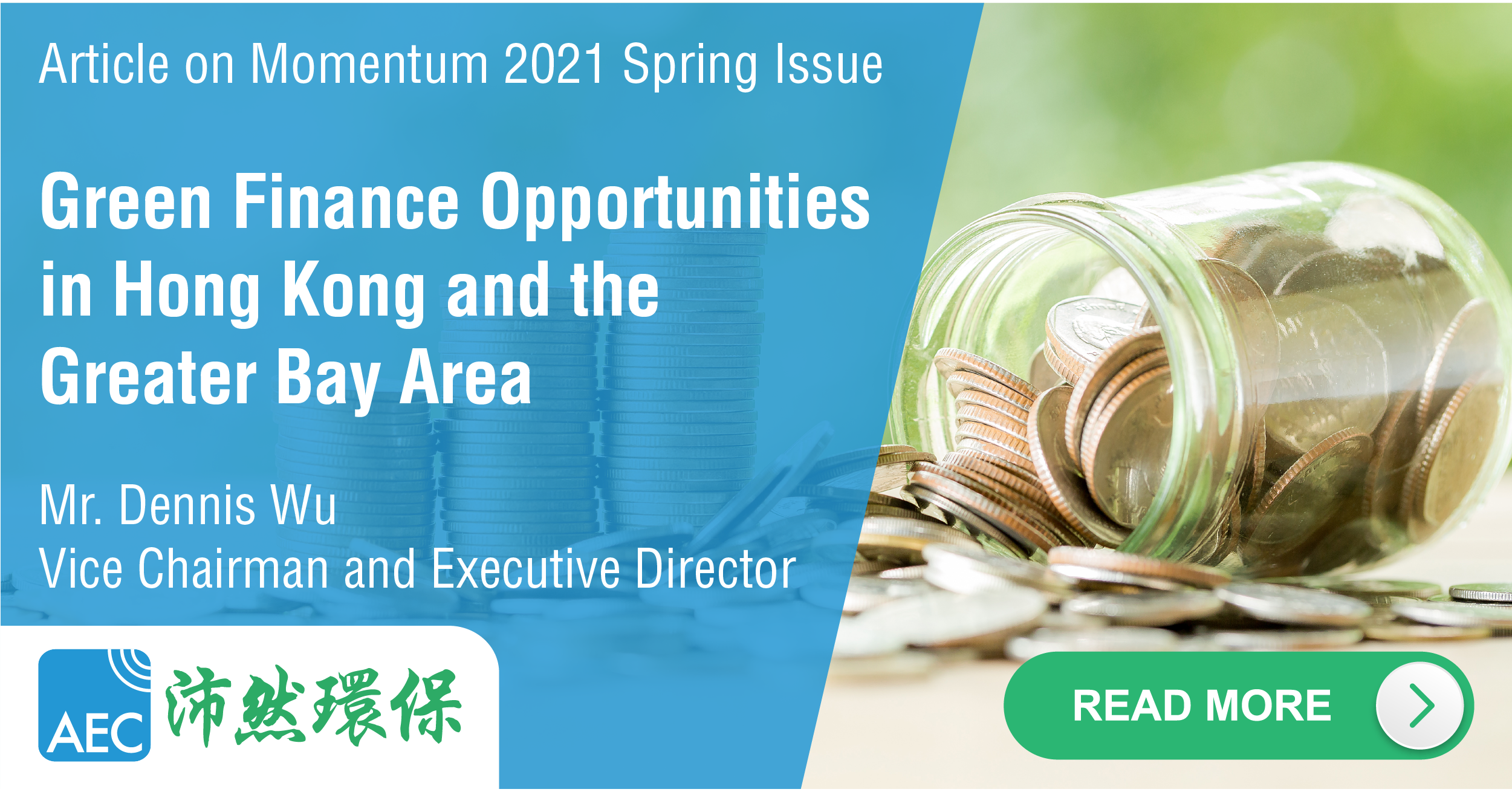 News & Events