Share

Print

AEC Group Launches Sustainature – A One-Stop ESG Online Management Platform for Enterprises
Category
Corporate News
Date
30 Sep 2021
Tag
Environmental, Social and Governance (ESG)
ESG data
ESG disclosures
Digital transformation
Cloud-based platform
Hong Kong Exchanges and Clearing Limited
Listed companies
Sustainature

News & Events
Share

Print

One Button to HKEX Compliant ESG Reporting
Monitoring Carbon Reduction at a Glance to Help Achieve Carbon Neutrality
Environmental, Social and Governance ("ESG") has become one of the mainstreams in the business community locally and globally. Allied Sustainability and Environmental Consultants Group Limited ("AEC Group" or the "Company"; Stock Code: 8320.HK; together with its subsidiaries, the "Group") today announced the launch of Sustainature, an online ESG management platform. The platform simplifies the process of ESG data processing for enterprises of all types, analyzes and manages data in one place, and helps generate ESG reports in compliance with the requirements of Hong Kong Stock Exchange ("HKEX"). It not only helps companies comply with HKEX's increasingly stringent ESG disclosure requirements, but also keeps them abreast of the latest trends in digital transformation to cater for the growing needs for ESG disclosures from stakeholders including shareholders, customers and community at large.
As ESG digitalization becomes a significant trend, future sustainability reports are expected to be more comprehensive and cover more complete and quality ESG information to keep pace with stakeholders' increasing attention to ESG issues, while advancing carbon neutrality and corporate sustainability in the long run. Previously, ESG reporting was extremely challenging for enterprises. Companies needed to manually collect and consolidate the data from all parties and multiple locations, which was often time-consuming and inefficient. Meanwhile, HKEX has been tightening its disclosure requirements and shortened the period for publishing reports to within five months after the financial year end.
Collecting and disclosing data in a traditional way is no longer efficient, nor appropriate. To keep up with the pace of digital transformation, the Group launched Sustainature, a one-stop platform for ESG data collection, analysis, and management. Sustainature helps users collect and record ESG data from different business units anytime and anywhere, automatically calculates and analyzes the data, and generates HKEX compliant ESG reports with just a simple click. This platform greatly simplifies the reporting process, especially with limited time and resources. It is also equipped with target-setting feature and progress tracker, which allow companies to make better use of their data to formulate net-zero targets and track the progress against the goals.
Mr. Wu Dennis Pak Kit, Vice Chairman and Executive Director of AEC Group, said, "Governments in many countries have pledged their commitment to carbon neutrality, including Hong Kong and Mainland China. At the end of last year, Hong Kong announced its carbon neutrality pledge by 2050, and China's target is by 2060. As ESG and sustainable development continue to receive widespread attention from the public and business sectors, we are pleased to launch Sustainature today to help companies do more with less effort in ESG disclosures. AEC Group has been working closely with all sectors to build resilience to climate change, and is moving towards our goal of net zero carbon business operation by 2030. Looking ahead, we will continue to collaborate with our business partners to formulate more innovative technologies and solutions, and join hands with all walks of life to forge ahead towards a net-zero future."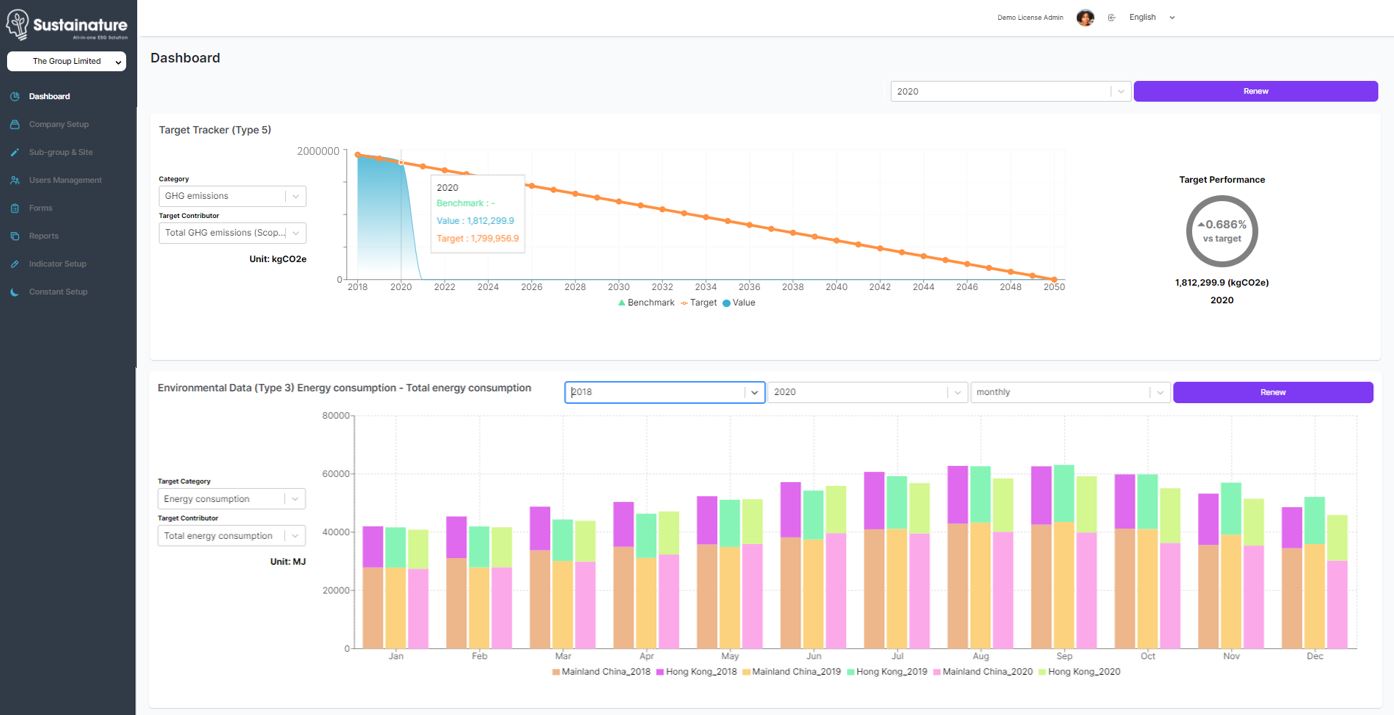 News & Events