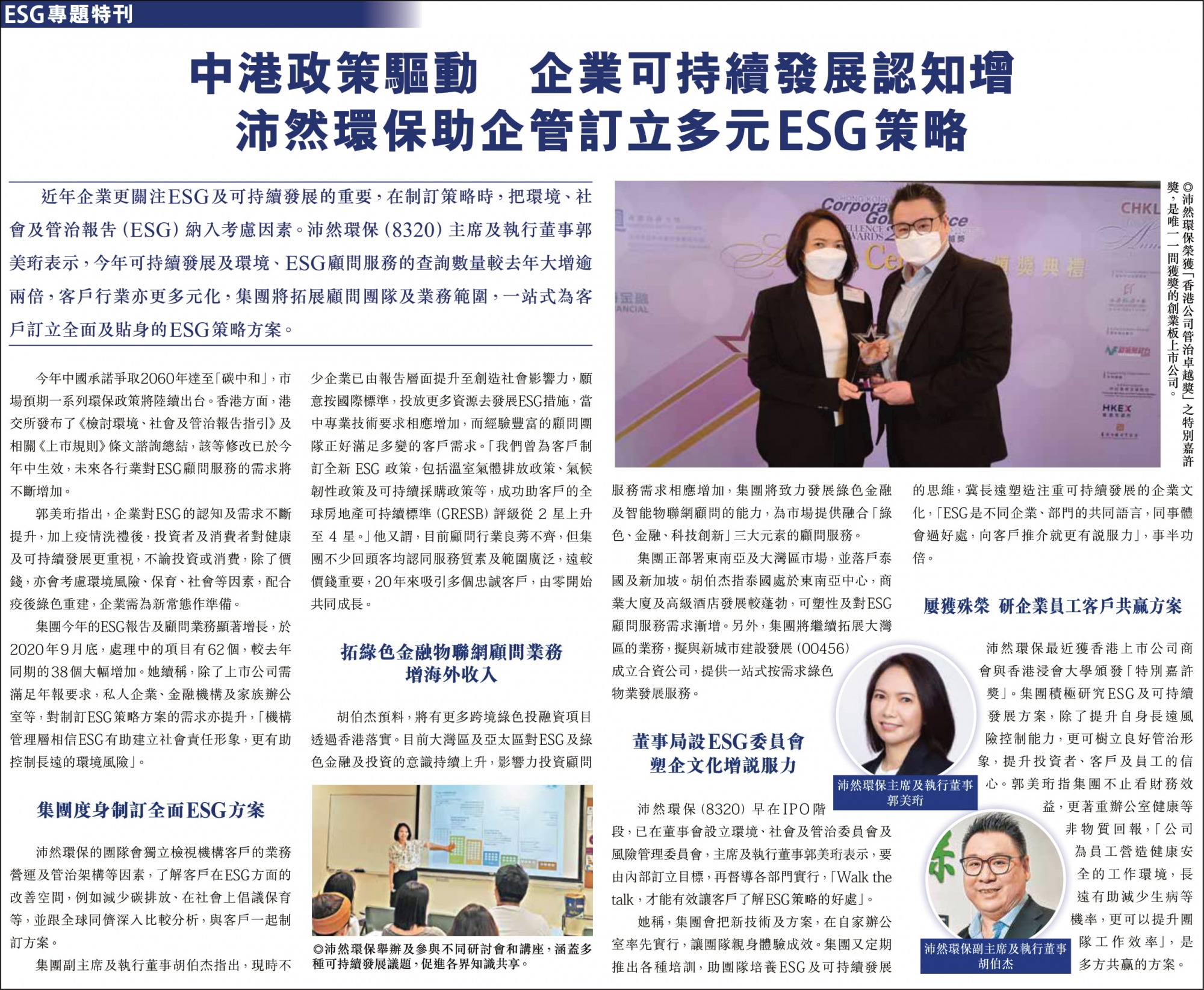 Share

Print

Ms Grace Kwok, Chairman and Executive Director and Mr Dennis Wu, Vice Chairman and Executive Director of AEC Group were interviewed by Hong Kong Economic Journal
Category
Publications
Date
23 Dec 2020
Tag

News & Events
Share

Print

AEC Group 's interview under the ESG-related series was published by Hong Kong Economic Journal on 23 December 2020, highlighting our multi-pronged ESG consulting services as well as our Group's winning of Honorable Mention under the Hong Kong Corporate Governance Excellence Awards 2020.
In the interview, Ms. Grace Kwok, Chairman and Executive Director of AEC Group, has mentioned that China's pledge to achieve carbon neutrality and HKEX's amendments to ESG Reporting Guide will continue to drive awareness and demand for ESG consulting services in the future. She also mentioned that we've already set up the ESG Committee during the IPO stage, and only by walking the talk and establishing internal targets could we convince our clients of the benefits of ESG strategies.
In addition, Mr. Dennis Wu, Vice Chairman and Executive Director of AEC Group, has indicated that many companies have evolved from reporting to creating social value, and are willing to invest more resources in developing ESG measures in accordance with international standards. Besides, Dennis pointed out that the awareness of ESG and green finance in the Greater Bay Area and the Asia-Pacific region continues to increase, leading to the rising demand for impact investment consultancy services.

News & Events